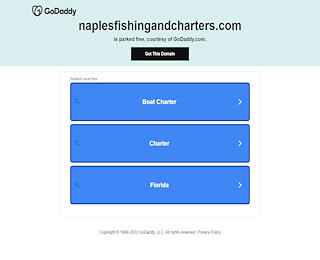 What To Look For In Naples Fishing Charters
There is no shortage of Naples fishing charters. An abundance of shoreline, temperate weather, access to the Gulf of Mexico, and natural beauty sets Naples apart. Naples fishing charters are one of the largest tourist draws to Naples and there is good reason for that.
You need to consider the following before you book Naples fishing charters.
Captain
The experience that your captain has in the waters around Naples can make the difference in a successful fishing trip and a bust. The captain needs certification as a captain from the Coast Guard. They need experience fishing the waters where you will fish.
Knowledge of the waters tells an experienced captain where the fish are. He has also learned the pattern of movement of underwater land masses that no chart can ever keep track of. You stay safe and catch more fish.
Boat
Newer boats make a fishing trip safer and more productive. You get to the fish faster because the GPS and other electronics can spot them. Newer boats have been designed from experience. They have conveniences that experienced fishermen appreciate.
A motor that fits the boat in size and power is a necessity. Bigger is not always better. The motor should be reliable and show signs of having the service that guarantees that you return to shore without any extra adventures you do not plan on.
Fishing equipment
The captain and the boat provide the equipment. You want to look for good usable equipment that fits the fish you plan to fish for. Do not expect to have brand new equipment. You should have the flexibility of bringing your own tackle if you want to.
Who brings what?
A definition of who provides what is an absolute necessity. Consider things like live bait, artificial bait, coolers, and ice as a part of the fee for the boat rental. Food, drinks, and alcohol may be negotiable or you may have to provide them for yourself.
You should bring sunglasses, sunscreen, a hat, a light jacket if the season requires it, a camera, and shoes that have soft soles. You want shoes that will grip the deck but not mar the boat surface. Leather soled shoes are not a good choice.
Keep the fish or not?
The majority of fishermen practice catch and release. The practice protects wildlife and can keep endangered species from becoming extinct.
Food fish that are plentiful can be kept. The captain or crew can clean your catch and prepare it for you to take with you. Arrangements can be made for freezing and shipping to your home.
Nature
Your trip is not just about fishing. The ocean and the coast of Naples abound with wildlife. You may see a manatee for the first time in your life. The natural experience can be more awe inspiring than the fishing.
Accommodations
The Naples fishing charters that you want to use has you in mind first. They can adapt to a party of two as easily as they can to a party of six. They are experts at teaching children and people with no fishing experience how to catch fish. They know what fish are running at any time of year. They can tell you what the weather will be like.
Easy to make a date
The charter that you want should have a website that makes it simple for you to make contact and set up a trip. Access to their Facebook, Google, and LinkedIn pages will give you the background that you need to make a good choice for a great fishing trip.
Naples Fishing Charters